Two time Grammy Nominated chief producer, mixing engineer and Anthem's studio owner, Bryan David takes your music to an in-your-face warm place. With 18 years of professional experience working with bands, solo musicians, television and film, he still prides his work with very affordable prices.
"I am a musician myself." Bryan says, "I have been to many studios with hidden fees, long turn-around times, unpleasant staff, and just poor quality for the money. I have settled in to change that."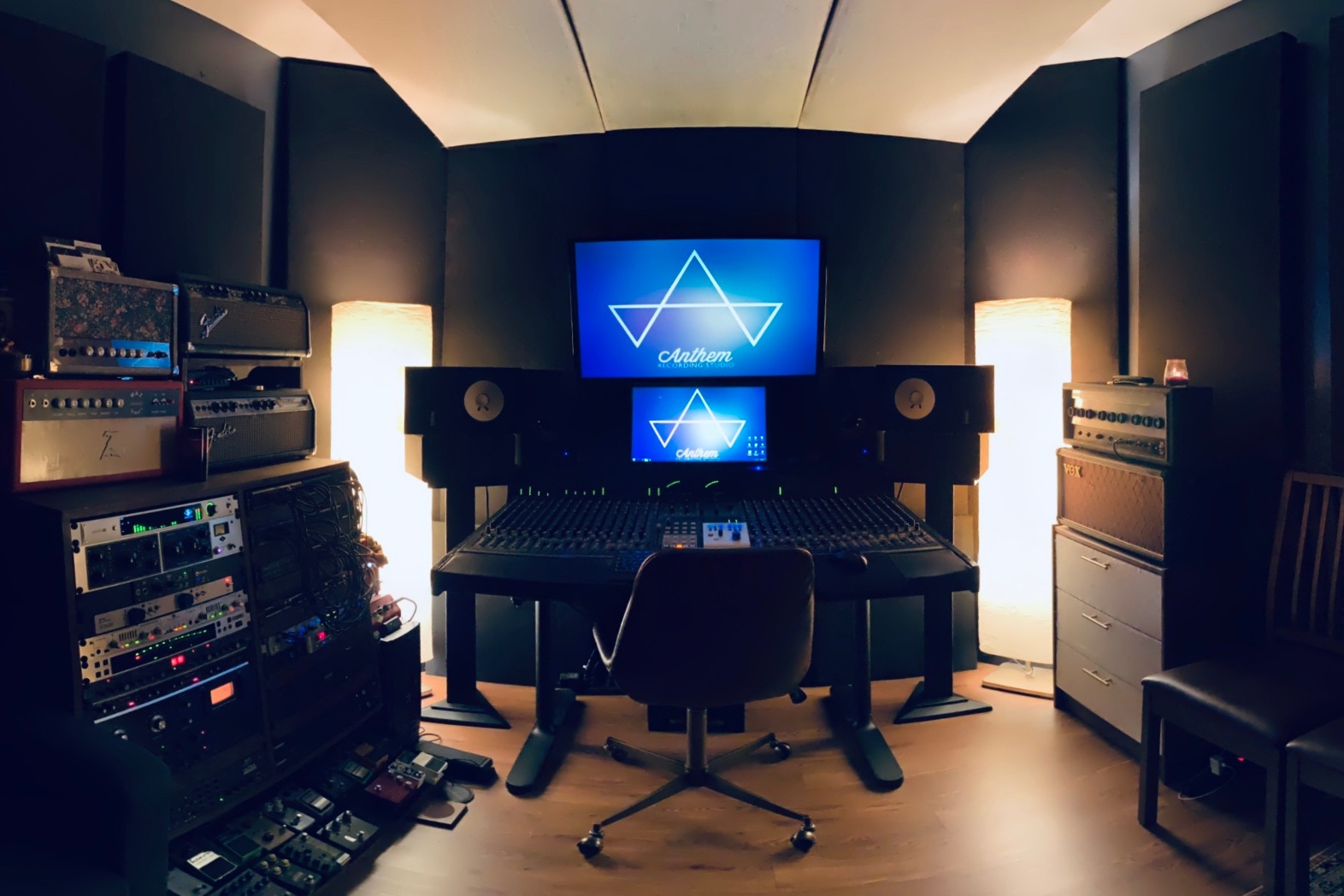 The rooms
Three rooms, specifically designed differently. The sound you get is not only the sound you hear. You also hear the sound of the space around the instrument or vocal. Our Live Room is different from most studios, we refer to it as a "Convertible Live Room." One side is fully treated, and the other side is open and full of natural reverb. The fully treated side is our main tracking area, but has doors that open up to the other, larger sounding room. Both have 16 foot high ceilings, so playing with the space is totally up to you. The third room is the control room, boasting many analog and digital components. This room is really quite "dead." This is ideal for fine tuning your sound.
The amps
2010 Dr. Z Maz 18nr, 1964 Ampeg m-15, 1973 Fender Vibro-Champ, 70's Sovtek Mig 50, 1959 Fender Bassman ri, 1964 Fender Bassman, 1975 Fender Bassman, 90's Vox Ac-30, 80's Roland JC120 Jazz Chorus, 60's Danelectro Comet, 1964 Silvertone 1484 Twin Tweleve, and a 1975 Fender Princeton. We also have a Fractal Audio Axe-Fx and plenty of small solid state amps for some grungy, cranked up tones
(check for availability as we are constantly upgrading)

the drums
KITS: 1966 Ludwig Superclassic 12", 13", 16" toms and a 22" kick. 1966 Slingerland 13" tom with 20" kick. 1971 Ludwig Standard 12", 14" and a 20" kick. 70's Ludwig 1o" tom. 1968 Ludwig 15" tom.
SNARES: 2005 Noble & Cooley 14x4, 59/60 Ludwig Supraphonic COB 14x5, 1969 Rogers Dynasonic COB 14x5, 1967 Slingerland Soundking COB 14x5, 1973 Ludwig Acrolite 14x5, 1969 Pearl President 14x5.5, 1968 Gretsch Round Badge 4105 14x5.5, 2011 George Way Tradition Walnut 14x6, 1946 Leedy Broadway 14x6, 80's Ludwig Raw Brass 14x6.5, and an 80's Pearl Steel 14x6.5
Many more cowbells, shakers, tambourines and noisemakers.
(check for availability as we are constantly upgrading)
the Mixer
At the heart of Anthem's studio is a vintage 32 channel Ghost analog mixing console. This console has the Neve/SSL mods performed to make some really great classic audio. We also have a 1976 TEAC 388 reel-to-reel tape machine for stem mixdown if you want that great tape saturation.

the outboard analog
Outboard mixing is crucial in this day and age to warm up those digital environments. We have rack gear from: Universal Audio LA610, Great River ME-1NV (neve 1073), DBX 386 with NOS 60's Mullard tubes, Warm WA-76 (1176 clone), a pair of 1970's API 312's, Valley People Dyna-mite stereo, BSS dpr-402, DBX 160A pair, and many more emulations available via Universal Audio Apollo. We also have so many guitar and bass pedals to cove out your ideal tone. Drives, distortions, compressors, fuzz, delay, reverb pedals, etc.. the list goes on and on and on..

the monitors
Monitors, or speakers, we conduct our everyday listening pleasure on are the classic 1970's Yamaha NS-10m's. Yeah, those speakers you see in all of your favorite studio pics, we got 'em. Also we have a pair of professional Adam A7's and a sub, great for all day listening and tracking.
the Guitars
1999 Fender Jazz Deluxe Active, 1978 Gibson SG, 1975 Fender P-Bass, 1999 Fender Telecaster Custom Shop, 72 Fender Telecaster Deluxe, 1976 Fender Stratocaster, 2013 Fender Jazzmaster, 1974 Fender Mustang, and a 1989 Takamine ND15-C Acoustic.
(check for availability as we are constantly upgrading)
the Mics
Neumann u87, AKG D112, Shure SM57's, Sennheiser MD421's, Oktava 319 mkII's, Shure SM58's, 1968 Electro-Voice RE55, 1970 Electro-Voice 644, 1968 Electro-Voice 664, 1968 Shure 565sd, Shure SM7b, Oktava 012, Cascade Fathead and Fathead II with Lundahl 2912, AKG 414b-uls, Shure pe585, Sennheiser 825s, Sony C-56, and many more fun trashy mics for an unusual sound.
(check for availability as we are constantly upgrading)
.03
recording - production - mixing & mastering
SAMPLES
recording Per hour
Audio recording with engineer and use of studio equipment. Three hour minimum for this rate, although other rates can be purchased in our Custom Package Deals.
audio mixing
This price reflects a song containing 24 tracks of audio. For more tracks or further information, please contact us with any questions.
Mastering
The final step in every recording is mastering. We apply limiting, EQ and compression to bring the overall sound to a competitive level.
additional tracks
This is for anyone needing backing tracks for live performance or alternative versions such as instrumentals or stem mixes.
preproduciton
This is for artists looking to get their ideas down. There is a three hour minimum for booking most sessions, but the preproduction session negates one hour of required time and allows the artist two hours of demo recording time with the added extra of having their song professionally produced.
custom package deals
Some bands need a day for a song, some need a week in the studio. Sometimes you just need to do a voice over for film or finish that perfect acoustic track for your girlfriend. We can custom tailor a package that works for you and your budget, just contact us.